Would burn-out stop Guardiola building a Man City dynasty?
The Catalan says he is open to staying at the Etihad Stadium for longer than three years, but even if he were to call it a day it may not affect the club's success
Pep Guardiola may be just three months into his Manchester City tenure but you would be hard pushed to find many around the club – apart from Yaya Toure and his agent – that want to see the back of him too soon.
City head to White Hart Lane on Sunday having won all six of their previous Premier League matches, but still Guardiola stresses his side will look "much, much better" by his third season in Manchester.
That is a scary enough proposition given City's incredible transformation under his watch up until this point, and it may get worse for their rivals at home and abroad.
On Friday, Guardiola opened the door to a longer stay at the Etihad, news that will be music to the ears of the club's hierarchy.
Senior City sources made it known earlier this year that they hope Guardiola will stay beyond his three-year contract, and he has now admitted for the first time that he is keen on the idea.
"I am so happy here so I'm not thinking about 'will it just be three years?'. When I decided to say goodbye to Barcelona and Bayern Munich I decided in the last year. I said, 'Okay it's enough'.
"I can stay more time or less. Less, I know, will happen depending on the results or if the chairman is not happy with me or our job. That [can] always happen.
"But if they are happy with me, I can stay that period, and I am happy and they are happy, why not longer?"
It would be typically City to worry about what happens after Guardiola has gone, given he has barely even started, but some are already concerned what will happen when his era is over – due to how brilliantly it has begun.
Mauricio Pochettino, the ambitious Spurs manager whom Guardiola regards as one of the best in the game, may even consider himself as a potential replacement.
Though given he was said to be keen on the United job earlier this year, and that there are plenty of doubts around whether Jose Mourinho will make it to the end of his contract at Old Trafford, the Argentine is currently more likely to end up on the other side of the city.
What is for certain is that there is no appetite for change in the blue half of Manchester. Guardiola has already stamped his mark on City thanks to an all-encompassing approach designed to let his players know "that all the staff are working 24 hours for them".
The Catalan brought an army of coaches, doctors and analysts with him to the club and they all take their lead from his example: he arrives for work before anybody else and is usually the last one to return home, with even the most long-standing City members of staff impressed by his dedication.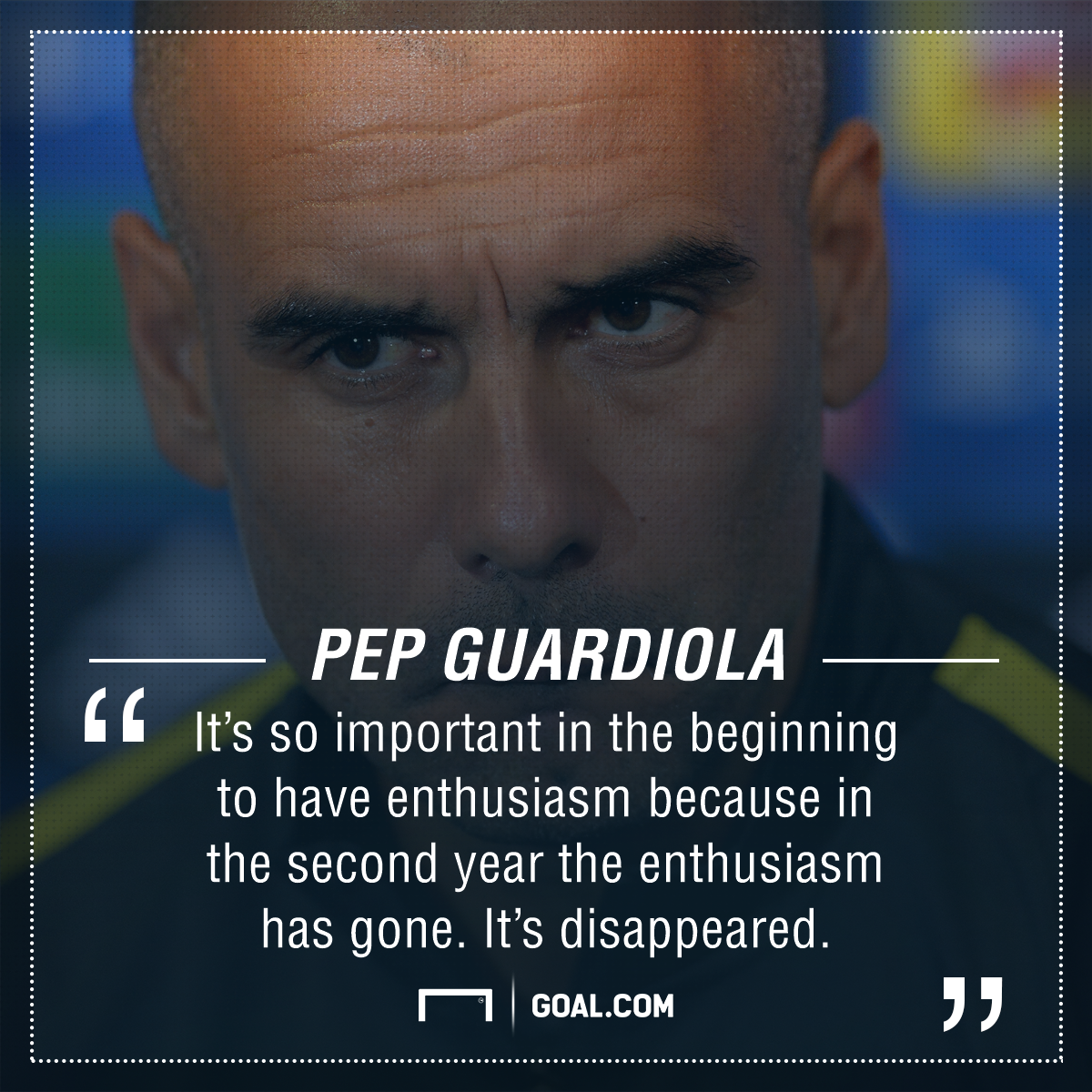 The fear – other than a deterioration in results and a failure to win trophies, of course – is that he will burn himself out, which was a contributing factor in his decision to leave Barcelona. It is something Guardiola himself is wary of.
"It also depends on many [other] reasons," he said of his intentions to stay at the club. "It depends on if I see the [chances] to improve the team is not possible, or if I'm not happy any more.
"When that happens I don't want to be a problem with the club. I never try to be a problem for the club.
"When I feel I'm not good or don't have energy – and me without energy I'm not good. I need it to be there. Sometimes the time decides for you.
"I'm so happy here so. I will be happy losing games so [leaving] is not about happiness. It's about the way I am looking forward to doing good things and making the fans of Manchester City happy to watch our games.
"That is what I want and when I feel that's not going to happen, in that moment I am not going to stay."
But even if he gets to the stage where he can give no more, it should not necessarily mean that City suffer: he believes his Barca side were at their very best in his fourth and final season, even if they won the treble in his first.
"I am convinced that the last year in Barcelona is when we played best. We did not win the triple, for example, but it was the best we played. The last year in Munich is when we played best, and I'm sure that my final years here will be better than they are now; we are very far from where we want to be playing, but that's normal because we've not been here long."
Nobody could say Guardiola has ever left a team in a poor state and, right now at least, nobody expects City to be any worse off by the time he is done.